ROADTRIP - THE MOTORCYCLES
It's time to reveal the secret: as we already announced in the first post(HEIMPLANET Roadtrip - The Preparation) about our road trip, we are on the road with motorbikes.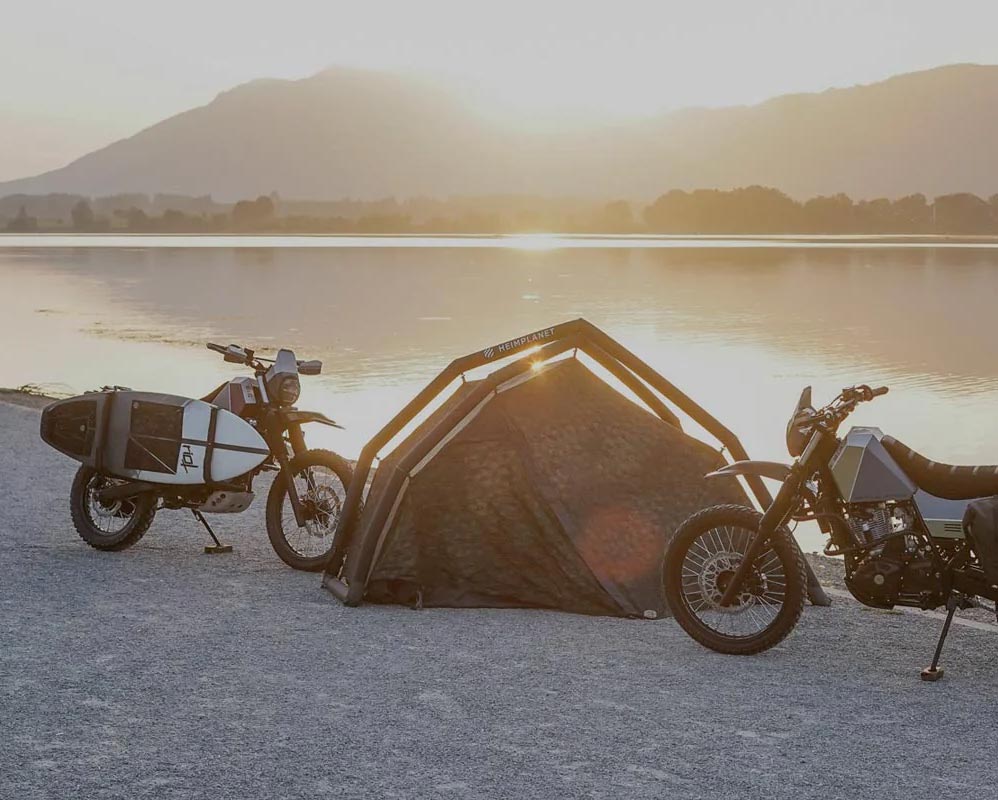 These are no ordinary bikes though - we teamed up with the guys from Crooked Motorcycles and rebuilt two Suzuki DR650s for a special reason: we are celebrating our 10th anniversary this year. Here they are ...
As you can see, the entire bodywork has been rebuilt and handmade by Crooked Motorcycles (using 2mm aluminium) - from the tank to the handguards, side panels and mini fairing - with these changes we keep the weight down. The electrics run off a Motogadget mo.unit Blue Box, which controls a Gazzini LED headlight and additional Baja Designs SP2 LED lights.
The compact turn signals are from HeinzBikes at the front and Motogadget at the rear. The engines of both motorbikes have also been refreshed and fitted with new bearings. The Leo Vince slip-on mufflers save almost 2.5 kg in weight on both bikes. The seats are new, big enough for two people and upholstered in a mix of Alcantara & leather.
‍
The two luggage racks on the side have been custom made to fit these bikes with our custom bags - more about how the bags are made will follow soon in another post - each bag has a 30L capacity to store all your road trip essentials. In addition to the custom racks, there is also the option of attaching a water tank (1 gallon).
‍
Crooked has also made additional carriers for surfboards, which can also be bolted to the DRs if required. For the colour selection, we have taken the colours of the upcoming HEIMPLANET products. Also the coordinates of HEIMPLANET and Crooked Motorcycles have been added to the sides of the tanks.
‍
"We got on very well because we have the same passions - adventure and surfing. Originally, two NX650s were planned, but we switched to the underrated DR650, which has not been rebuilt much. It is a very good base for adventures and long rides," says Dominikus from Crooked Motorcycles.
‍
We are currently on our way to Portugal with our rebuilt DR650s - a total distance of 11,000km including the way back to Hamburg. By the way, we mastered the first trip incl. overnight stay together with the guys from Crooked - so we could learn a little more about the motorbikes and adjust some little things.

If you want to learn more about the road trip, you should definitely take a look at our Instagram account.
Learn more:
Road trip - the motorbike bags
More info: crookedmotorcycles.com