WHAT TRAVEL REALLY MEANS
I love to travel. But what does "travel" really mean? For me, there is no right or wrong answer. Every journey consists of discoveries, encounters, the desire to immerse oneself in cultures, customs and people that are completely different from us. When you travel, you get to know others and through others, you get to know yourself.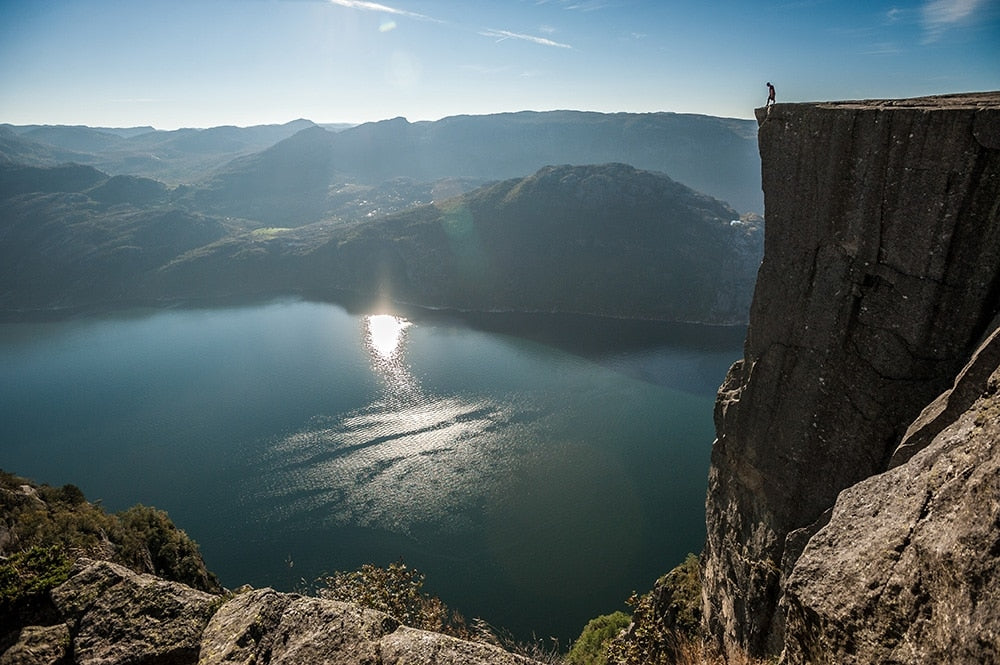 For me, it's a break from the routines and roles we have to play in our everyday lives. The point is that every time I come home I feel better: I have learned new things and seen places I could only imagine. As Bruce Chatwin said, "Travel not only opens the mind, it shapes it."
‍
This summer I was in Norway. As I didn't have many days, I decided to cross the region from Oslo to Berghen. My goal was to live in full contact with nature by hiking in different fjords of this beautiful country. The biggest obstacle for me to overcome was walking several kilometres with a 20 kg backpack. To get used to it, I spent most of August hiking through my mountains in northern Italy.
For my first plan, the only companion was my tent, but one evening, just a few days before departure, I met Paul. He is a photographer, was my classmate in high school, and as life goes, we lost track of each other for many years. After talking to him about my project, he said only one sentence: I will come with you!
We planned our route in Oslo, but we left the city as soon as possible to get to our first destination: the famous Troll Language. A 22 km hike to sit on a rocky outcrop that stands horizontally above Lake Ringedalsvatnet and drops steeply 700 metres; what an impressive view! On the way to Odda, the last town accessible by public transport before Tyssedal (starting point of the road to Trolltunga), we passed through Voss and the large plateau of Handangervidda. This is the habitat of the largest population of wild reindeer, unfortunately we only saw some grisly remains left by hunters.
‍
We moved around only by public transport, on our feet and sometimes by hitchhiking. And thanks to hitchhiking we met Michael, Max, Stefan and Daniel. Three guys from Germany who gave us a lift in their Volkswagen T3 from Odda to Tyssedal. They too wanted to sit back and enjoy the unique view of the Trolltunga. When we arrive in Tyssedal, a huge car park welcomes people from all over the world. This is the last checkpoint before we start the 22 km hike. Some with tents, others in camper vans, but all are ready and equipped to spend a night in this remote place where not even mobile phones work and the only thing here is a toilet.
The fact that we met the German guys probably saved the rest of my trip, because the several kilometres of backpacking caused acute inflammation of the tendon in my left heel. So Stefan, a physiotherapy student, was able to heal my heel by massaging my foot to relieve the pain while I sat in front of the fire.
After the Trolltunga we were very tired, but not because of that we were demotivated. The following days we decided to make the trip to the famous Preikestolen. We spent a whole day in Stavanger to rest and the next day we took the ferry that brought us to the start of the hike to the Pulpit Rock (Preikestolen).
The hike itself was not difficult, but the 22 kg backpack made it quite exhausting. Then we had the unhealthy idea of sleeping with our tent on one of Norway's symbols, and so it was. The night was very cold, but I know a little trick to keep my feet warm: You boil water, fill it into a bottle and then put the bottle on the inner bottom of the sleeping bag.
For more: instagram.com/massimogu