DO NOT FOLLOW THIS BIKE
A video and a blog post every week, plus a picture a day on his Instagram account. This is how Atila publishes his journey through New Zealand.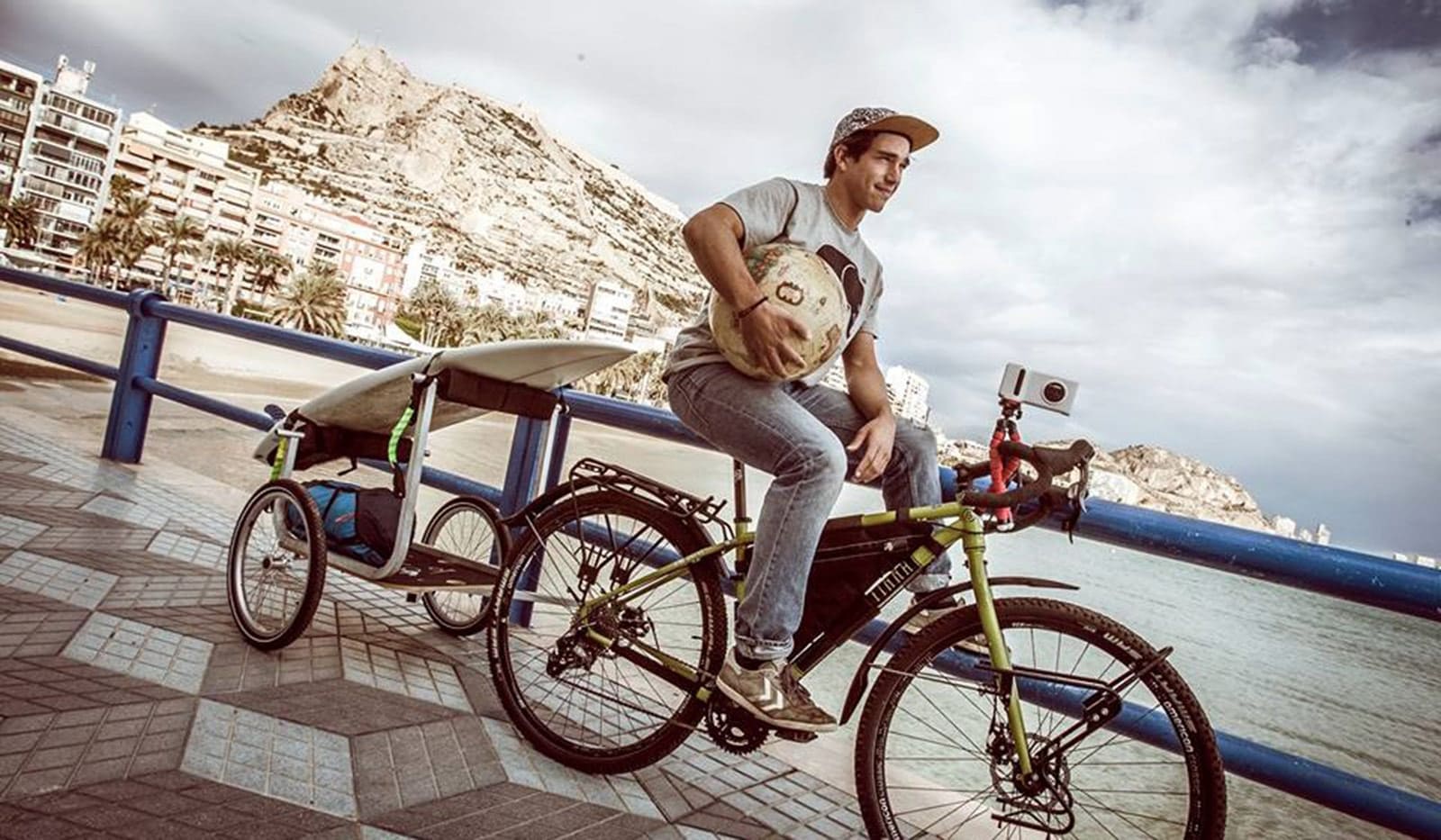 New Zealand - 1 Spaniard - 1 bike - 16,000 km - 10 months
Chapter 1: Start
Reaching the starting point in Dunedin was crazy. A night at the airport in London, several delayed flights, 32 hours of flying, a lost passport and all the equipment delayed. But no worries, I was right in the middle of the adventure. First destination: The Catlins National Park. In this part of the island, the climate and landscape are quite extreme. There are many mountains and the weather is very changeable, so it is not easy with the bike and some extra kilos.
I pedalled for several days in search of good waves and finally reached Curio Bay. The place was amazing. The bay is ideal for dolphins, so I went surfing with them and with Julian, a charming German. Then I met a guy with a crazy face who asked me if I wanted to go surfing at a "secret place" that almost nobody knows. The guy drew a map and I followed his instructions, looking for a farm with sheep and the number 119. The secret spot was stunning, an incredible wave broke below the cliff.
Chapter 2: Invercargill > Te Anau
Nature has changed a lot. Fiordland is beautiful, with peaks up to 2,000m, but the weather is horrible. It rains almost every day, ideal for cycling...
I met Marc and Jo. Telling Marc that the search for the perfect wave is almost as exciting or even more exciting than surfing itself. And it's actually true. When I go wave hunting on my bike, I feel incredibly excited at the thought that I'm going to find a special place, and that's the adventure.
‍
Chapter 3: Nowhere > Queensland
From Te Anau to Wanaka was the most beautiful stretch I have driven so far. Now there are high mountains and endless slopes on all sides. The lakes are on the way. Lake Mavora was a real surprise in the middle of a long stage, I slept there and started a tour through the valley to Walter Peak the next day. Crossing the lake by steamboat and reaching Queenstown was an incredible experience. If only it was always so wild, but unfortunately it is forbidden to camp wild in most places in New Zealand. Fortunately, there are rules you can break.
‍
Chapter 4: Wanaka > Hokitika
Wanaka, a place surrounded by incredible, unknown nature.
I knew that the "wild" west coast would be tough, but I had not expected such an ordeal. When I crossed the mountain desert and reached the sea, I felt like I was in the last inhabited place on earth. Behind me: glaciers, huge waterfalls and very dark clouds. In front of me: straight, endless beaches, boulders, logs and huge trees. A dark, stormy sea, the opposite of what you imagine when you want to catch some waves.
Chapter 5: Greymouth
I just integrated into village life and people call me by my name when I get on my bike. Tessa, Tony and I met through Jo. They took me in as if I had known them all my life and they treated me like a son. I think that's part of the culture here. I don't know why, maybe because they are Maori, but in any case, people in New Zealand are very hospitable.
When you're on the other side of the world in the water, catching big waves and the people around you are dying to share a wave with you instead of stealing it from you (because they're locals), I realise that the pace of life here is exactly what we desperately miss in Europe. Everything is simple. You can leave your keys in and open the windows while you surf. The houses have open doors and you can walk barefoot to the supermarket.
‍
Chapter 6: Punakaiki > Karamea
The stretch from Greymouth to Karamea was full of perfect waves. The only thing you needed was a pair of courage to go into the water. Long beaches, strange rock formations, rivers and above all very few people.
Jude, a contact a friend had given me some time ago, invited me to stay in their house. This house would be the dream of many people in Europe. I was very lucky to spend a few days with her and her daughter. We went for bike rides, looked at the waves and enjoyed this retreat.
‍
Chapter 7: Westport > Takaka
The idea was to reach the northern tip of the South Island, the "Farewell Split", which is quite close from Westport and Karamea. But there is a national park that has to be crossed and it is not allowed to cross it by bike, so I had to take an internal route (300 km more). The road map seemed impossible, it was an endless series of curves.
The days with Marco and his mother were very fun, we ate, travelled together, saw great beaches and surfed alone in very cold and clear weather.
I really don't know what my trip would be like without surfing. Sure, when you surf, it's hard to imagine a trip without surfing. But I mean, I don't know if all these things would have happened if I hadn't been accompanied by my surfboard.
‍
Chapter 8: Motueka and Marahau
I couldn't cross the Abel Tasman by bike because that's not allowed. So I had to take an internal route again, which meant climbing the steepest mountain in New Zealand, Takaka Hill. The 800 m high mountain separates Golden Bay from Tasman Bay, it took me 2 hours to climb the mountain. I know, at a snail's pace, but with all the weight, I had to go slowly and imagine all the tourists in their vans seeing a guy climbing the steepest mountain in New Zealand with a surfboard and a tomato red face.
Marahau, a place with the most beautiful nature I have seen so far. I couldn't believe it, behind me: the sea in the distance and the beginning of the park, a few cows in the middle, black horses and birds of all kinds. Next to me: a loud sound of pure water and a few ducks. In the morning I visited the beaches of Abel Tasman. I was there, just me, bright sunshine, clear water, an endless horizon and behind the forest the brutal sea. I couldn't share that with anyone.
‍
Chapter 9: Marahau > Wellington
I was under some illusions when I reached Picton under extreme conditions: rain, thunderstorms and wind gusts of 45 km/h. I was not able to get out of the water. I heard the sound of a large ship. It had already arrived. The 1pm ferry. I really don't know how, but magically I arrived on time.
I, a newcomer to the North Island, had the capital before me. Maybe I'm influenced by my childhood memories and the cover of "Ibiza Mix 95", but I had the impression that the act of taking a ferry to get from one island to another meant switching to another world.
‍
Chapter 10: Wellington
I'm in Wellington, the "coolest little capital in the world", as the locals say here.
Ashleigh and her flatmates welcomed me warmly and took me to all the cool places. I went swimming and jumped off the Patacha, I skated at the skatepark, I went to Mount Victoria, I surfed at Lyall Bay and Houghton Bay, I left a party, I went to the circus, I cooked with Chileans, I watched and interviewed a regatta, I sang and played guitar with people on the street.
I really love that Kiwis are the nicest and friendliest people in the world.
Chapter 11: Wellington > Whanganui
According to the map, the west/southwest coast of Wellington seemed beautiful. I missed being in a quieter place, sleeping in my tent and being near the water. The track was beautiful, for the first time I felt the autumn light. The weather had changed. It was sunny with a very cold wind. Past small crystal clear rivers, green meadows where cows, ducks and goats spend their days. Not a human being to be seen anywhere.
I arrive at Makara Beach, a beautiful beach surrounded by rocks and high mountains. Autumn light, clear water, calm sea and I haven't seen anyone yet.
Chapter 12: Whanganui > Opunake
I watched the sea like an angry child because there were no waves. There was a man sitting next to me in his car, also looking at the sea. If the day is cloudy and you see someone looking at the sea, he is probably a surfer, a fisherman, a diver or someone who often goes to the water.
In Hawera I lived like a king, so I wanted to stay as long as possible. Dean, his family and I spent the days together and made the time very special. The icing on the cake was when Phil asked me if I would like to fly. We flew over all the famous waves in the Opunake area. He even let me fly the plane. You can imagine how much I wanted to do flips or other manoeuvres, but Phil told me to 'keep it steady'.
Opunake, the paradise of waves. Winter is here. They go in short sleeves, but I wear long trousers with tight ones, a cotton shirt and a jacket.
Chapter 13: Opunake > Oakura
I can do what I wanted and deserved the most: surf! It's very different from what I'm used to. In Europe, there are different places where there are many people in the water. Here you have to ask the farmer for permission, then say hello to the cows, climb over the fence and walk for half an hour to get into the water.
I wouldn't have thought the spots were so remote, but that's what makes them even more special and exotic. Perfect waves and they are still untouched.
‍
Chapter 14: Oakura > New Plymouth
It doesn't rain where I come from, so I'm not used to rain and I don't like rain. Especially not when it rains for a whole week without stopping for even a second. I remembered that someone had told me to go to a beautiful place where people would welcome me warmly. A huge wooden house by a river, surrounded by a forest. The owner had built this house in search of good waves and rented out a few rooms for a living. It was a fun house. There was a sauna, a river with a road full of surprises, boards everywhere (skate, surf, SUP), musical instruments, kayaks, dogs and a dead rat on the roof.
I arrived in New Plymouth in the evening, around 6pm, but it was already dark and cold. Toby, a German doctor I had met on my trip, took me to his friend's house and a few days later people were already saying I was the Spanish version of Toby. He is the kind of man you would like to be; always friendly and nice to everyone, always ready to listen, a friend to everyone and a really good guy.
‍
Chapter 15: New Plymouth > Raglan
I really need new legs, because mine are already overloaded. I had the bright idea of riding through the countryside instead of taking the main road. Well, I think that was the worst idea I had on the whole trip. The truth is that the routes were incredibly beautiful. I drove through very authentic villages, far away from everything, and the people welcomed me with a kindness from another world. But it was quite hard to carry the surfboard over the dirt roads and the tracks were hell. It was super cold, but the cold didn't bother me, it's the rain that's worse than ever.
I don't know why, but I started imagining what I looked like from the outside: sweating like a pig, a head as red as a tomato, a bicycle with a surfboard and a Spanish man on the other side of the world getting fucked on a very steep slope. I started laughing so hard that I had to stop riding.