BALTIC LONG ROAD LONG WAY HOME
It all started with my old GDR moped "Schwalbe" from 1984 from East Germany, which I have owned for over 10 years and decided to restore the engine and actually everything under the bonnet.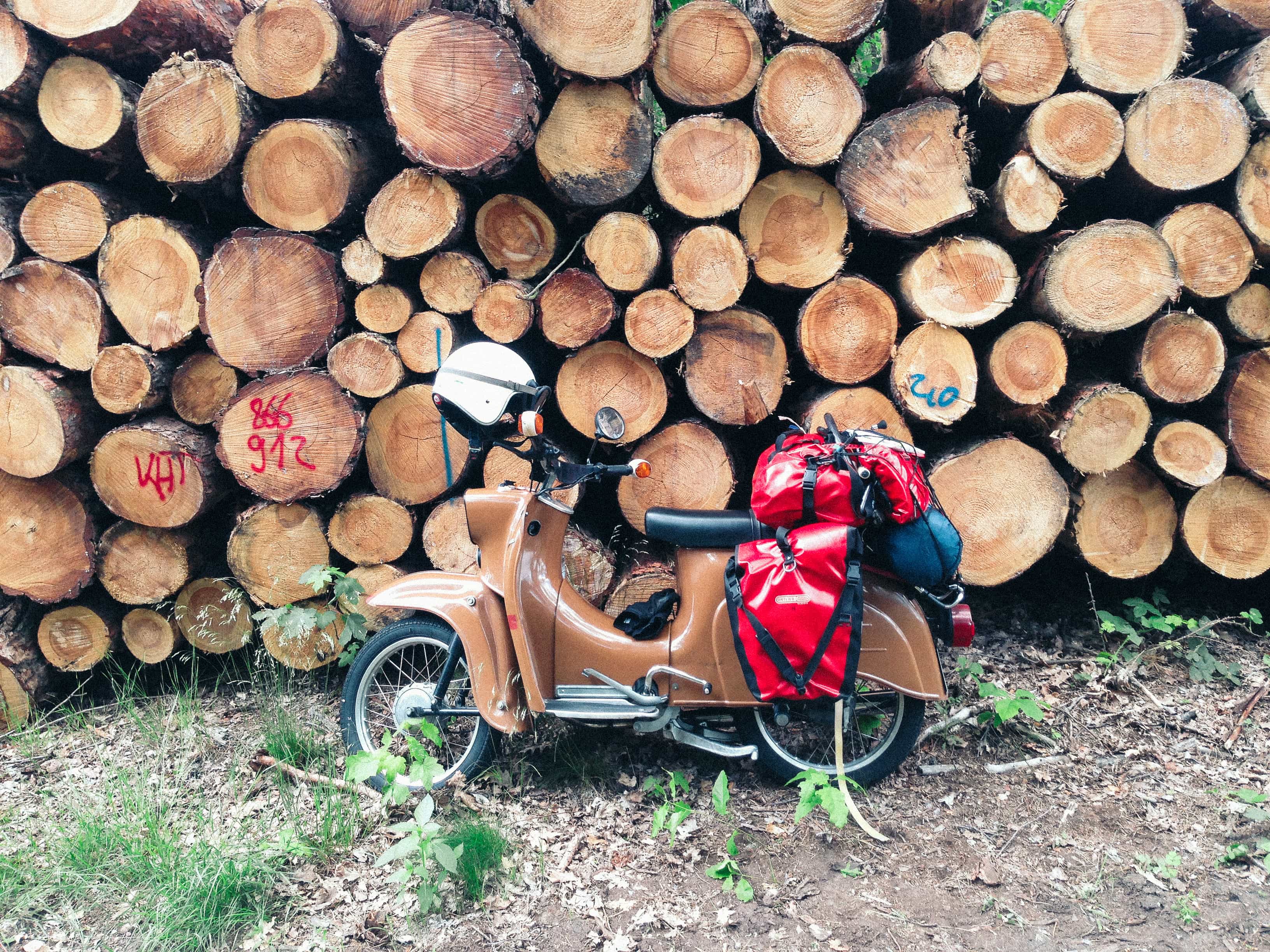 A perfectly running moped and after it had been sitting in the garage for almost 2 years, I decided to do a bigger tour with my old friend. So I started planning and came up with the idea of going around the Baltic Sea, a new area for my motorbike and me.
‍
I finally had the opportunity to take some time off and prepare everything. 5000km with 3.6 horsepower around the Baltic Sea. Alone. I started in Magdeburg, Germany, my hometown, and headed straight north. The first few kilometres were terrible. I listened to the engine and thought that every minute something would break and I would only get a few kilometres. But everything went well. 250 km and 8 hours later I arrived at my first stopover in Kakeldütt (a funny name in German). Pitched the tent within 2 minutes, sat by the lake, opened a beer and enjoyed the night.
‍
The next big step: By ferry from Rostock to Trelleborg, Sweden. There I made friends with some Harley riders who accepted me immediately when they saw my old moped. Sweden was the second of seven countries on my route. I had brought a foldable fishing rod especially for Scandinavia and it paid off on the second evening when I caught a nice pike.
‍
I drove on with my little moped and passed many interesting places. Mostly because I wasn't allowed to use the motorway, so I had to zigzag my way north. Mostly I stayed at campsites to meet people and enjoy the summer nights outdoors. The people I met on my journey were amazing. They took me fishing, invited me to their homes and shared delicious food with me. Sweden impressed me a lot, not only the landscape but also the people. When I arrived in Stockholm after the first 1000 km, I could hardly believe it. My old moped and me in Stockholm! Fantastic!
After almost a week of travelling, I slept under a real roof for the first night again. I stayed with a friend. He and his girlfriend showed me around and took good care of me. When I left Stockholm, Sweden showed its full length. I drove for days through forests and on dirt roads, not seeing anyone for hours, just waiting for something to happen.
As the sun started to shine all day, bad weather arrived, the temperatures dropped and I was freezing on my moped. After checking the weather forecast for northern Sweden, I decided to take a 5-day shortcut and take the ferry from Umeå to Vaasa in Finland. I arrived there about 30 minutes before midnight. The sun was still shining and made for a beautiful 4-hour sunset. It was just incredible and I stayed up watching the water and taking it all in.
It was one of those moments that really made a deep impression on me. The next day it started to rain and strong winds made my slow moped even slower. At a speed of only 35 km/h, I thought I had time to understand those complicated city names, but it was impossible to pronounce a name like "Kristiinankaupunki".
‍
Hoping for warm weather, I drove straight to Helsinki. In between, I stayed at a nice empty campsite until a large group of bikers showed up. I wasn't sure what would happen, but when they saw the tent, my moped and me, they started laughing and couldn't believe I had come all the way from Germany. In the evening I ended up with 50 Finnish bikers drinking overpriced beer and singing karaoke badly.
‍
From Helsinki, I took the ferry to Tallinn, Estonia. I didn't have a visa for Russia, which meant some detours. The warm summer was back and the journey through Estonia was very quiet. I enjoyed the nice Eastern European charm and stayed at a campsite where there was nobody but the owner.
The next day I was already driving to Rigain, Latvia. It started to rain and I drove for hours along the Baltic Sea and suffered.... After being soaking wet, I needed some regeneration and so I took a room in Riga. It was strange to stay inside at night. I really liked being outside and having the open space around me.
‍
On my way to Poland, I drove through Lithuania and stopped at the "Hill of Crosses". As the name suggests, it was literally a small hill full of wooden crosses and gravesites. On this day, rain showers made for a dramatic silhouette, so I made many stops.
After Estonia, I basically drove right on the border between Lithuania and the Kaliningrad enclave in Russia. I was very nervous not to cross the border into Russia, because they don't joke about their borders. I overtook a few military trucks and at one point I thought I had taken a wrong turn - luckily that wasn't the case.
‍
‍
In Poland, I took a 2-day break in Masuria. My butt really hurt and I just couldn't sit down. I did a bit of fishing and enjoyed the stay. I couldn't believe that my old moped didn't have any problems, even the many dirt roads were no problem. And they were particularly bad in the last few days.
That probably explains my aching back. One of the last days in Poland was a bank holiday and when I arrived at the campsite I was offered strong alcohol. It was a fun evening with a big campfire. I left early the next morning to avoid celebrating all day and spend another night there. Funny but exhausting people.
When I crossed the border into Germany, I just couldn't believe it. My expectations of this trip were completely different from what I experienced, and in the end the reality was what I had wished for."